Поставио: maja | Категорија: Лесни профил Капела у Батајници, НВО "Еколошки покрет Земун", Новости, акције | Коментара: 0 | Датум: 30. октобра, 2019 |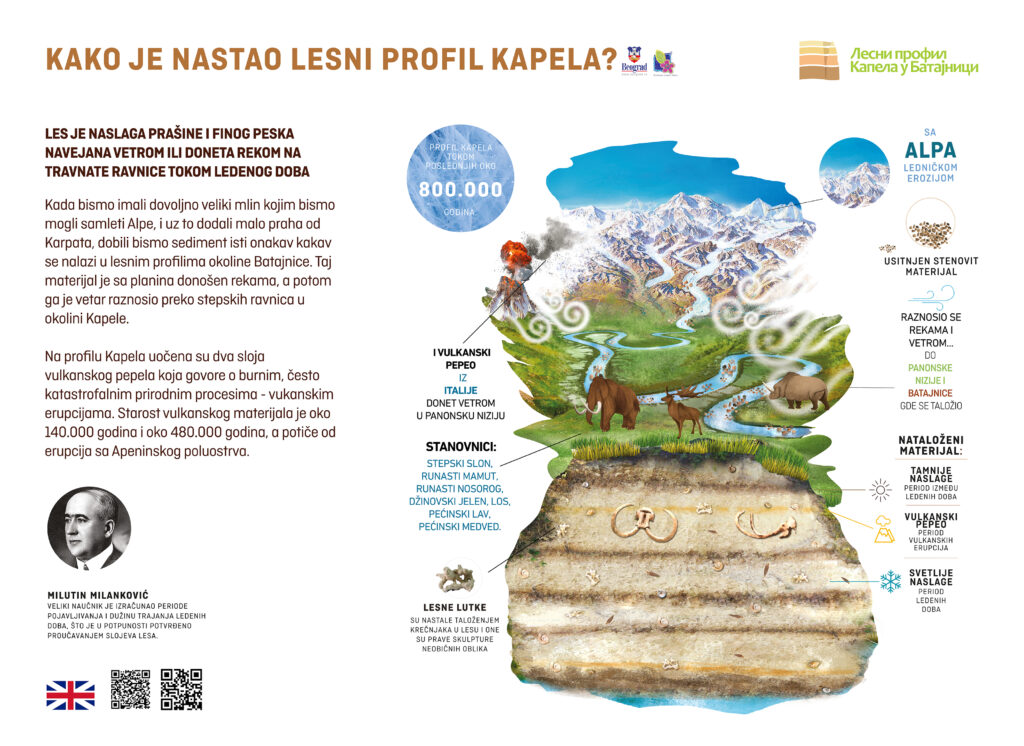 UNDER CONSTRUCTION!!!
HOW WAS THE LOESS PROFILE KAPELA IN BATAJNICA FORMED?
LOESS IS A DEPOSIT OF DUST AND FINE SAND BLOWN BY WINDS OR BROUGHT BY RIVERS TO GRASSY PLAINS DURING THE ICE AGE.
THE KAPELA PROFILE DURING THE LAST 800,000 YEARS.
If we had a mill large enough to grind the Alps and add a little powder from the Carpathians, we would get the same sediment as it is found in the loess profiles of Batajnica area. This material was brought by rivers from the mountains, and then it was carried by the wind across the steppe plains in the vicinity of the Kapela.
Two layers of volcanic ash have been observed within the Kapela profile, which talk about turbulent, often catastrophic, natural processes – volcanic eruptions. The volcanic material is about 140,000 and 480,000 years old, and it originates from the eruptions on the Apennine Peninsula.
MILUTIN MILANKOVIĆ
THIS GREAT SCIENTIST CALCULATED THE OCCURRENCE PERIODS AND THE DURATION OF ICE AGES, WHICH WAS FULLY CONFIRMED BY THE RESEARCH OF LOESS LAYERS
THE KAPELA PROFILE DURING THE LAST 800,000 YEARS

AND THE VOLCANIC ASH FROM ITALY BROUGHT TO THE PANNONIAN PLAIN BY WIND
INHABITANTS: STEPPE ELEPHANT, WOOLLY MAMMOTH, WOOLLY RHINO, GIANT DEER, MOOSE, CAVE LION, CAVE BEAR
LOESS DOLLS WERE CREATED BY THE DEPOSITION OF LIMESTONE IN LOESS AND THEY ARE REAL SCULPTURES OF UNUSUAL SHAPES
THE KAPELA LOESS PROFILE IN BATAJNICA
FROM THE ALPS ROCK MATERIAL CRUSHED WITH GLACIAL EROSION WAS DISPERSED BY THE RIVERS AND WIND… TO THE PANONIAN PLAIN AND BATAJNICA WHERE IT WAS DEPOSITED
DEPOSITED MATERIAL:
DARKER SEDIMENTS
PERIOD BETWEEN ICE AGES
VOLCANIC ASH
PERIOD OF VOLCANIC ERUPTIONS
LIGHTER SEDIMENTS
PERIOD OF ICE AGES
Postavi pitanje ili komentar